NEW from 08-28-2017
:
"The Klarna Group has aquired "SOFORT Überweisung" in the year 2014 and uses a unified design beginning at 28st August 2017. The payment method "SOFORT Überweisung" will be renamed to "Sofort." by now and the new brand, incl. logos will be established. For micropayment partners, there are no changes that need to be made."
altes Logo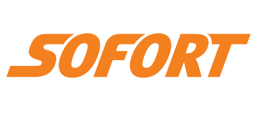 neues Logo
Online bank transfer. - the quick and effective solution for any type of amount
The online transfer option Online bank transfer. is a new and innovative payment method. Online bank transfer. unites the advantages of various classic payment methods and can be used to bill digital or physical products. No matter if its hardware, software, PDFs or user accesses: This payment method serves all shop & web solutions! Our long term experience and security measures regarding online transfers warrant a professional payment process.

Process - as easy as could be!
Your customer receives a transfer form during the order process and only needs to complete it with his bank account details: account number and bank code number. The transaction is confirmed with a PIN and TAN number.
Our system is simultaneously setting up a connection to your customer's bank and directly transfers the input data. Your customer will then receive a confirmation, notifying him that his bank has accepted the transfer. With this confirmation, the delivery of the products can be initiated.
Online bank transfer. ranges amongst the most flexible and secure payment methods.


Online bank transfer. - Paymentwindow
Adjust all payment windows individually for your web presence using our Payment Generator. Amongst our essential features you can select among 4 styles whose background colour can be selected at will.


Instantly up and running on the web


Our payment systems are ready-made web solutions, making integration as easy as it can be. You can use our ready-made payment windows as an iFrame, pop-up or direct link. Our payment generator creates the complete payment URL for you in just a couple of clicks.
You can choose and configure Paymentwindow once you've logged in to the ControlCenter.
The payment method Online bank transfer. is offered in two versions:
Event

The "Event" module allows you to strictly separate purchase and delivery. After the customer successfully completes the payment process, we send the result to your server. Then you can initiate all the events. Activations, account credits and linking can be taken care of quickly and directly.
How does the "Event" module work? Download the quick guide
File

The "File" module allows you to effortlessly sell individual files. We take care of billing and securely deliver the content for you. Our content delivery systems are secure and patented with the European Patent Office. Whether you want to sell PDFs, MP3s, images or compressed files - the "File" module is the simplest and fastest solution.
Online bank transfer. - Icons and Logos
We offer our partners an extensive selection of logos and icons to help them integrate micropayment™ payment systems.
Conditions you can count on
Please find an overview of our current conditions below.
We don't charge installation or basic fees with our partners. A secure and timely payout is our top priority.

* standard conditions. For individual offers please contact our sales consultants
Additional Services
service
calculation
cost*
Refund
per request
0,08 €
* All prices are net prices.