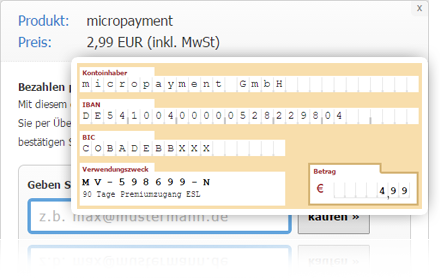 The most intelligent prepayment system ever.
Discover more about fully automatic invoicing without cancellation fees

Payment in advance by bank transfer is an extremely popular payment method and is therefore offered by 95% of all traders. But 98% of traders use time-consuming and error-prone systems for it. The Prepayment and Bank Transfer system can remedy this with:
fully automatic allocation and monitoring of payment flows
real-time processing of data and incoming payments
complete transparency for traders and customers at all times
automatic return transfer of too high incoming payments
automatic reminder for too low incoming payments
Familiarise yourself with the advantages of our new Prepayment and Bank Transfer payment method on the following pages.
Bank Transfer - Paymentwindow
Adjust all payment windows individually for your web presence using our Payment Generator. Amongst our essential features you can select among 4 styles whose background colour can be selected at will.


Instantly up and running on the web


Our payment systems are ready-made web solutions, making integration as easy as it can be. You can use our ready-made payment windows as an iFrame, pop-up or direct link. Our payment generator creates the complete payment URL for you in just a couple of clicks.
You can choose and configure Paymentwindow once you've logged in to the ControlCenter.
The following variants are available for payment in advance:
Event

The "Event" module allows you to strictly separate purchase and delivery. After the customer successfully completes the payment process, we send the result to your server. Then you can initiate all the events. Activations, account credits and linking can be taken care of quickly and directly.
How does the "Event" module work? Download the quick guide
API

Customized and flexible API solutions


You can also access this payment method using our API interfaces. The programming of our interfaces gives you unbelievable freedom. Create your own design or use our payment systems as a subscription solution. Further information is available in our TechDoc Center.
Bank Transfer - Icons and Logos
We offer our partners an extensive selection of logos and icons to help them integrate micropayment™ payment systems.
Conditions you can count on
Please find an overview of our current conditions below.
We don't charge installation or basic fees with our partners. A secure and timely payout is our top priority.

Bank Transfer
description
cost*
fee
chargeback
0,00 €
product fee
0,00 €
additionally per transaction
0,00 €
Bank Transfer
description
calculation
cost*
Refund (manual/automatic credit)
additionally per transaction
0,08 €
* All prices are net prices.