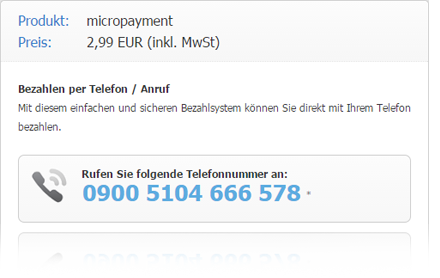 Call2Pay - the easy way to pay online
Call2pay was developed especially for paid internet content, such as eBooks, music, areas restricted for premium sites and online games. This telephony based payment method is popular with end customers and website operators thanks to its easy handling. Since Call2Pay is the most anonymous payment system thats available online and it doesn't come with time-consuming or laborious registration processes, it is a quick and convenient way to make payments.

The procedure is as easy as its integration:
The end customer calls a service number and is provided access to the desired content immediately. The costs will then be charged with his next telephone bill. The integration of Call2Pay for micropayment.de partners is quick and incomplicated.


Call2Pay - Paymentwindow
Adjust all payment windows individually for your web presence using our Payment Generator. Amongst our essential features you can select among 4 styles whose background colour can be selected at will.


Instantly up and running on the web


Our payment systems are ready-made web solutions, making integration as easy as it can be. You can use our ready-made payment windows as an iFrame, pop-up or direct link. Our payment generator creates the complete payment URL for you in just a couple of clicks.
Customized and flexible API solutions


You can also access this payment method using our API interfaces. The programming of our interfaces gives you unbelievable freedom. Create your own design or use our payment systems as a subscription solution. Further information is available in our TechDoc Center.
You can choose and configure Paymentwindow once you've logged in to the ControlCenter.
The payment method Call2Pay is offered in three versions:
Event

The "Event" module allows you to strictly separate purchase and delivery. After the customer successfully completes the payment process, we send the result to your server. Then you can initiate all the events. Activations, account credits and linking can be taken care of quickly and directly.
How does the "Event" module work? Download the quick guide
File

The "File" module allows you to effortlessly sell individual files. We take care of billing and securely deliver the content for you. Our content delivery systems are secure and patented with the European Patent Office. Whether you want to sell PDFs, MP3s, images or compressed files - the "File" module is the simplest and fastest solution.
Time

With this feature, the end customer determines how long they would like to use the web area that requires payment. As long as the telephone line remains connected, they can use the area. When the call is terminated, access is lost. Typical uses include chat applications and webcams.
Call2Pay - Icons and Logos
We offer our partners an extensive selection of logos and icons to help them integrate micropayment™ payment systems.
Conditions you can count on
Please find an overview of our current conditions below.
We don't charge installation or basic fees with our partners. A secure and timely payout is our top priority.